9 de oro
9 de Oro is a leading brand in the biscuit market, mainly because of its high quality and recognized heritage.
Related to the concept of "sharing", 9 de Oro is tradition. Always present in families and among friends, whichever their age may be.
Through time it managed to go beyond the "mate moment" and find new segments, with a wide range of options for everybody: there is 9 de Oro for every taste and moment.

News
Enjoy the traditional taste in different varieties
Alfajor con dulce de leche 9 de Oro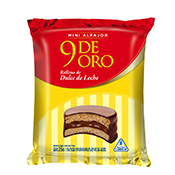 Cookies Brigitte 9 de Oro de Vainilla rellenas con Limón
Cookies Brigitte 9 de Oro de Vainilla rellenas con Chocolate
Cookies Brigitte 9 de Oro rellenas con Chocolate
Cookies Brigitte 9 de Oro de Chocolate rellenas con Limón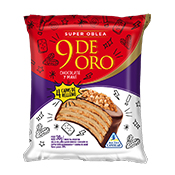 Obleas 9 de Oro bañadas en chocolate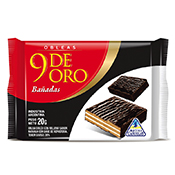 Obleas 9 de Oro de Chocolate y Naranja
Obleas 9 de Oro de Vainilla y Naranja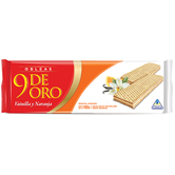 Obleas 9 de Oro de Vainilla y Frutilla
Obleas 9 de Oro Triple Chocolate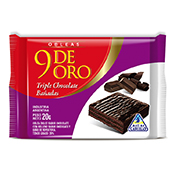 Budín 9 de Oro de harina integral sabor banana con 5 semillas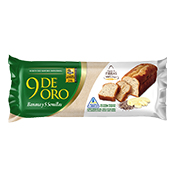 Budín 9 de Oro de harina integral sabor limón y amapola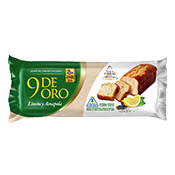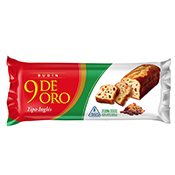 Budín 9 de Oro con Chocolate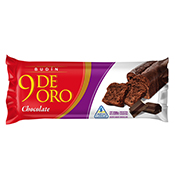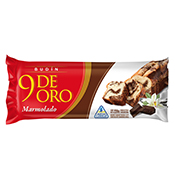 Budín 9 de Oro de Vainilla con Dulce de Leche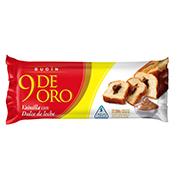 Budín 9 de Oro de Vainilla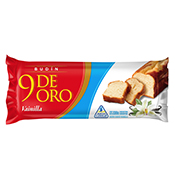 Mini Budín 9 de Oro de Vainilla con Dulce de Leche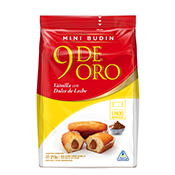 Mini Budín individual de Vainilla relleno con Dulce de Leche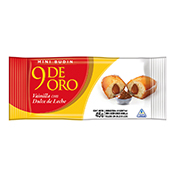 Mini Budín individual de Vainilla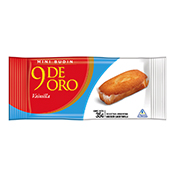 Mini Budín 9 de Oro de Vainilla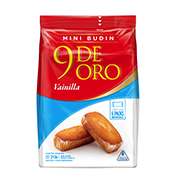 Mini Madalenas 9 de Oro de Chocolate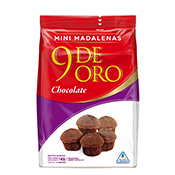 Mini Madalenas 9 de Oro de Vainilla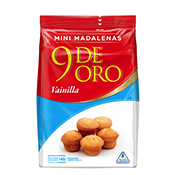 Madalenas 9 de Oro de Vainilla con Dulce de Leche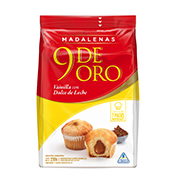 Galletitas 9 de Oro hechas con Yogur de Vainilla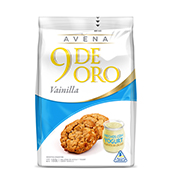 Galletitas 9 de Oro hechas con Yogur de Frutilla
Galletitas 9 de Oro de Avena con Pasas
Galletitas 9 de Oro de Avena con Miel
Galletitas 9 de Oro de Avena con Manzana y Canela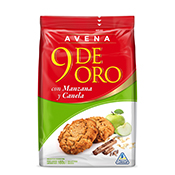 Cookies 9 de Oro con chips de Chocolate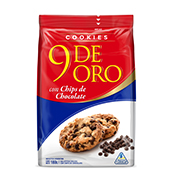 Galletitas 9 de Oro con Chips de Colores
Cookies 9 de Oro de Avena con Chips de Chocolate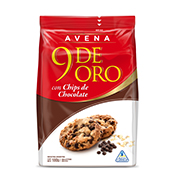 Galletitas 9 de Oro con Chips de Chocolate Blanco
Pepas 9 de Oro con Membrillo natural
Pepas 9 de Oro Integrales con Membrillo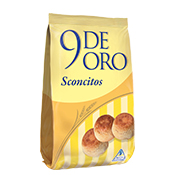 Scons 9 de Oro sabor Limón
Bizcochos 9 de Oro Agridulces
Bizcochos 9 de Oro Azucarados
Bizcochos 9 de Oro con Salvado
Bizcochos 9 de Oro Clásicos
Mini Flora de Membrillo 3 unidades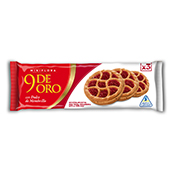 Mini Flora de Dulce de Leche 3 unidades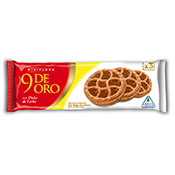 Mini Flora de Membrillo Individual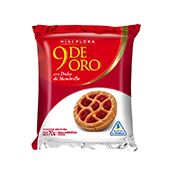 Mini Flora de Dulce de Leche Individual